All Bilas tuned up by us are marked with our nameplate!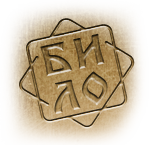 Sound therapy - treatments by sound
On this page we'll pay special attention to the bell sound therapy. Sound therapy - treatment by sounds - is known for a long time and now confirmed by many scientists. The bottom line is that under the influence of sound on human (and in general to all living things) whether it is beautiful music, birds singing, bell pealing, the sound of the surf, is not only emotional effects but also the phenomenon of bioresonance.
Many years ago Gnezdilov Andrei Vladimirovich, M.D. have heard a low sound of a very large, heavy bell and he was shocked. The professor has experienced some internal relief. Since then, he decided to try the bell peal for medical purposes. Professor could not place the bell in a cancer hospital , it was unreal, and he brought several bronze Bilas instead. Here is what he wrote: "We used bronze plates imitating the sound of bells. Patients were asked to find the tone that his most enjoyable, then - to give or to find the rhythm of strokes, and finally to determine the impact force to the Bilas. It was impressive to us that there was some relief of pain symptoms in our patients. It is interesting that the analgesic effect was achieved not by direct action on the sore spot, but indirectly through the autonomic center that corresponds to this place. We could say that the centers coincide with the 7th chakra allocated to Indian medicine. Pain relief occurred within 5-10 minutes after the impact, and corresponded to the phase of the sound attenuation. Patients were assessed this as a sound massage, which at first seemed the pain intensified, and then evaporate it into space. Many emphasized the relaxing effect of bell therapy. Remarkable fact that those patients who are denied the relief of pain, at the same time falling asleep under the influence of bell peal, that in itself was evidence of sedative effect ... "(" The Way to Calvary ").
Professor suggests that the beneficial nature of the bells is in the sound waves, issued by the bell. Sound waves at the molecular level affect the body's tissues, which dulls the pain. In medical practice, wide use of this method is not found, and the professor admits that his experience so far is insufficient. Maybe the ending of pain - it's just a miracle of God, applied to patients in their prayers, when the sound sounds wonderful.
With years of experience, we have developed a special Bilas set for bell therapy with low sounds (low octave) of light alloys.
You can purchase one or more of the beat for your work.